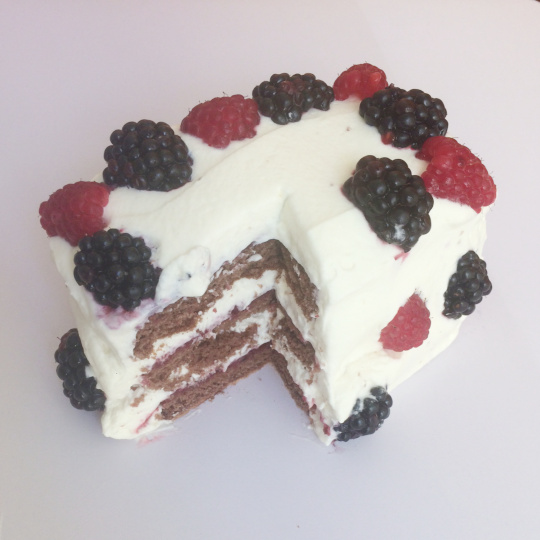 Ingredients
4 eggs
4 tablespoons of water
1 pck vanilla sugar
100g flour
1 tablespoon liquorice powder
1 tablespoon cocoa powder
100g starch Mondamin
1/2 pck. baking powder
3 cups of whipped cream
1 pck. cream stiffener
3 teaspoons liquorice granules
6-9 tablespoons raspberry jam
Fresh bromide and raspberries for decoration

Preparation

Grease a 26 cm springform pan and preheat the oven to 180°C.
Separate the eggs for the sponge base. Beat the egg whites to a beaten egg white. In another bowl mix the egg yolks with the water until very foamy. Mix the sugar with the vanilla sugar and add. Whip everything to a thick cream. Mix the flour, liquorice powder, cocoa powder, Mondamin and baking powder and stir into the cream. Finally, fold in the beaten egg white with a whisk. Bake in the middle of the oven for about 35 minutes.
Allow the sponge cake base to cool and cut across twice for 3 cake bases. Briefly whip the cream, add the cream stiffener and whip until done. Spread all cake bases with raspberry jam and a 1 cm layer of cream. Sprinkle the liquorice granules onto the cream. Carefully layer the cake bases on top of each other and cover all around with cream. Finally, decorate with sliced bromine and raspberries. Tip: Liquorice granules on cream do not look so decorative after a while, so decorate the top layer with cream and fruits only.