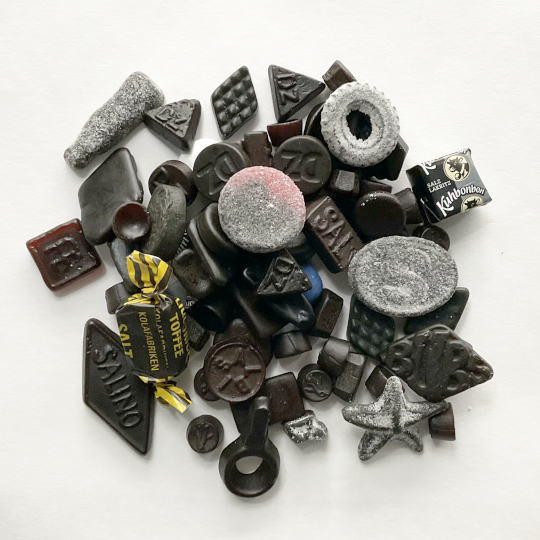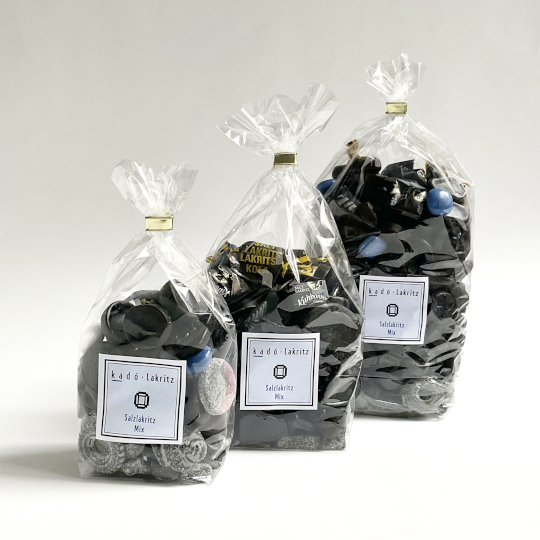 Our mixture of european salty liquorice in 250g | 500g | 1000g. All Nordic liquorices from light to high salted united in one bag. If you would like to order your personal favourite one from this mix, you will find it in our Liquorice Shop under "Salty Liquorice". All liquorices at kado are sorted alphabetically in their flavour category, just scroll down.
Found your favourite liquorice? Now select the desired grams per bag and then the number of bags e.g. 3 bags of 100g or 1 bag of 300g and put them in the shopping cart. Then we ask, if you want kadó to combine similar 100g liquorice sorts into ONE large bag. We pack your order as you like and send the liquorice parcel on its way. Or you will receive an email when it is ready for "pick-up" at our store in Graefestrasse 68. By the way: our liquorice mixes or the popular chocolate bar can also be collected spontaneously - without ordering in advance. We have installed a "horse door" especially for this purpose. We wish you much pleasure with kado liquorice!

We have changed our Packaging at kadó and fill our liquorice in transparent cellulose bags. Cellulose is a component of plant cell walls and is made from wood - renewable and plastic free. At least, please put the bag in the blue (paper)bin for recycling.